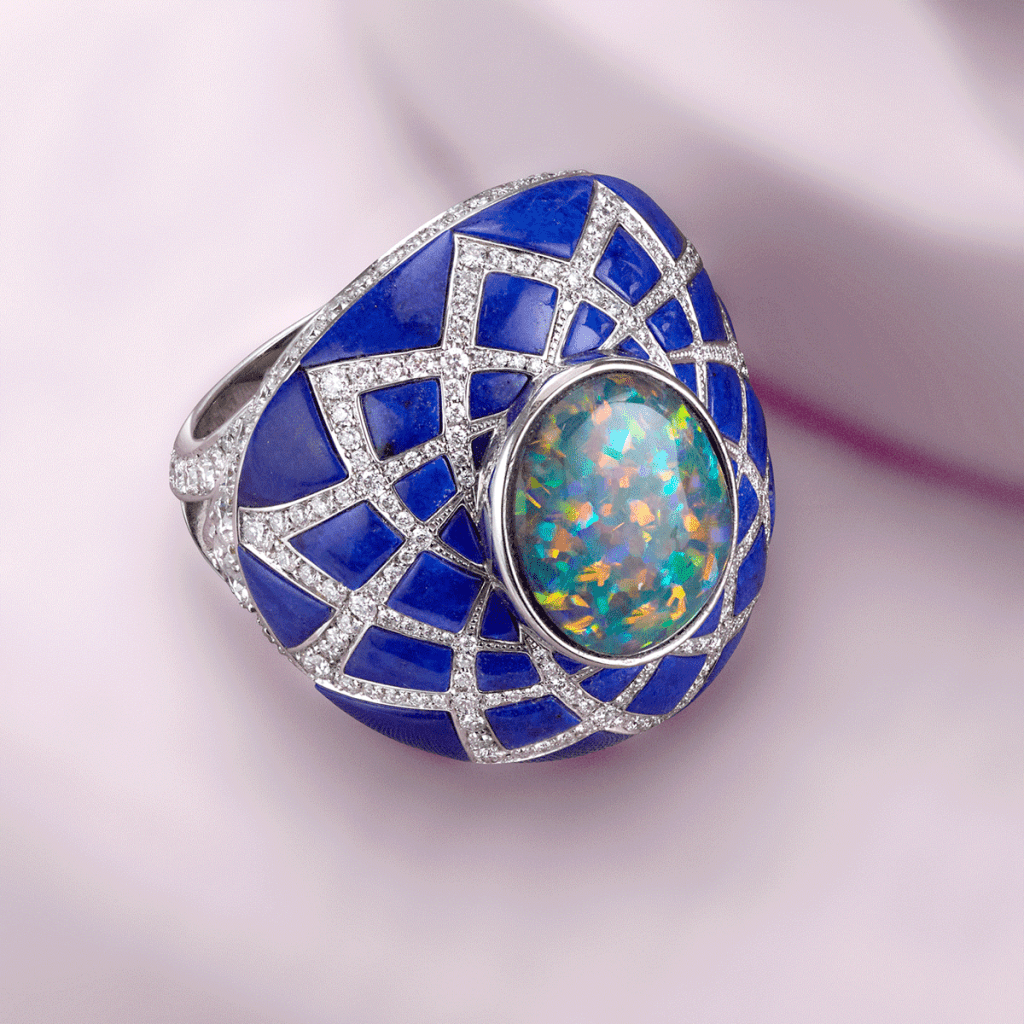 Opal Jewellery by David Morris
In recent years, opal jewellery has grown in popularity amongst women who desire something a little different and appreciate this striking gemstone's individuality and kaleidoscopic colour. Though not as rare as many other jewels used by the House of David Morris, real opal jewellery is of a large carat weight, spectacular colour and iridescence are nevertheless incredibly hard to find. Black opals are the rarest of all, and have inspired some unique high jewellery creations.
Discover our Opal Jewellery collection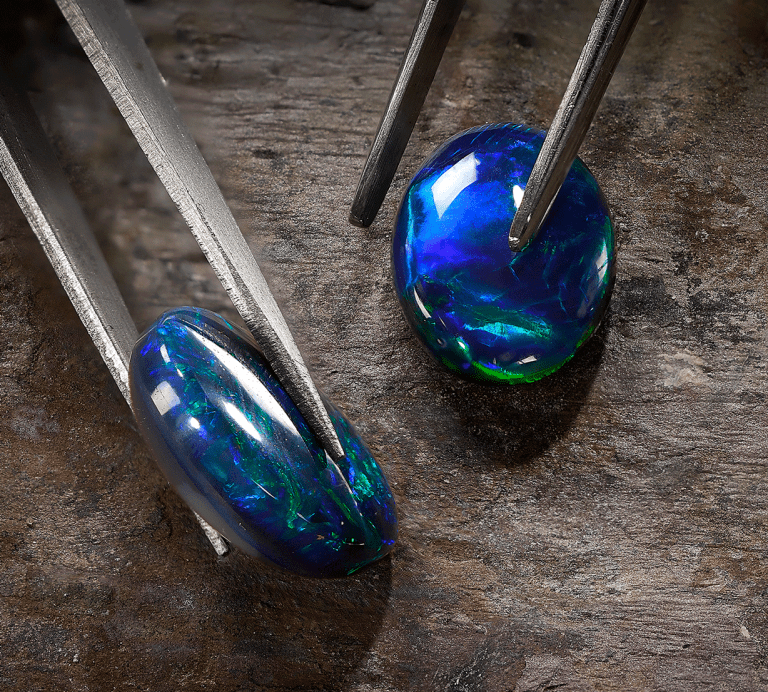 History and symbolism
The origins of the word 'opal' are a clue of this fascinating gemstone's long history, its roots lying in the ancient Sanskrit 'upala' meaning 'precious stone', and the Latin 'opalus' which means 'to see a colour change'.
Many of the world's most spectacular opal jewellery examples originate from Australia and, according to Aboriginal folklore, were created when a huge wheel of fire fell from the sky and scattered the earth with colourful, flame-like stones.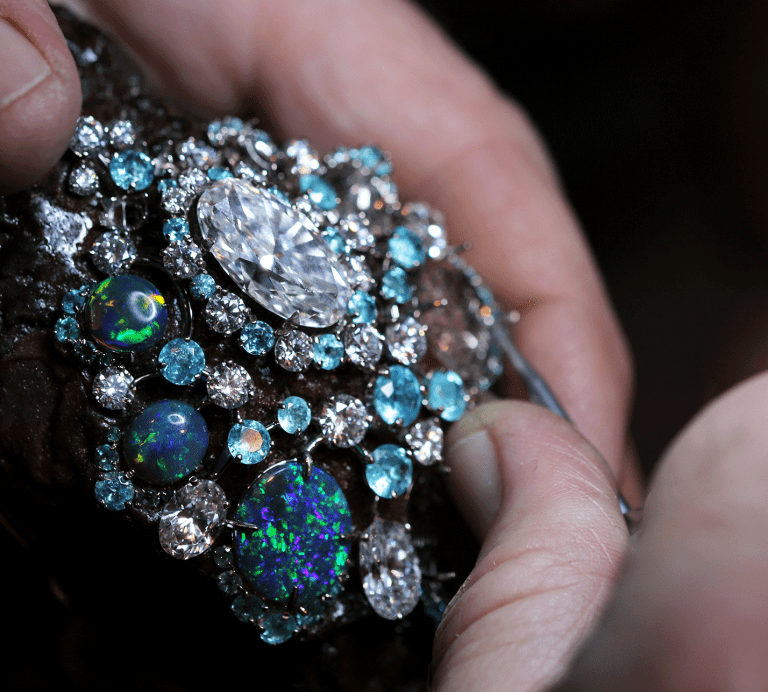 Provenance
Opals of many colours have been discovered around the globe, but due to their dramatic intense colour and depth, it is black opals from Lightning Ridge in New South Wales, Australia that are the rarest and most revered. First found here in the late 1800s, the area has become synonymous with the world's most beautiful black opals.
This rare type of opal contains trace elements of carbon and iron oxide, creating unusual dark hues and making black opals the most sought-after opals in the world.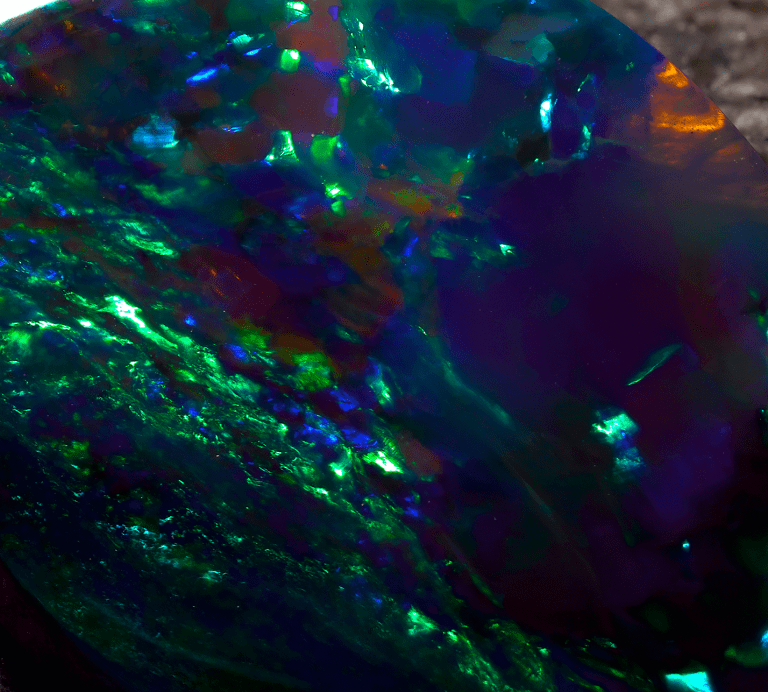 Classification
As with other precious gemstones, there are a number of important categories when classifying opals. Colour and its related depth, carat weight, shape and thickness, brightness, pattern and origin all important factors in the classification of opals, particularly high-value black opals.
What's more, always look for black opals classified as 'solid', which means that no kind of backing has been added to the gemstone in order to enhance its colour, and avoid 'doublets' and 'triplets', which are an imitation of solid black opal gemstones.
Investing in opal jewellery
Australian black opals are the most valuable and highly regarded type of opal, and the highest quality black opals can be more valuable per carat than diamonds.
The darker body colour of black opals mean that the myriad rainbow colours of the stone are much more visible and vibrant than in a lighter-coloured opal, increasing their desirability and value. However, there are many factors in assessing a black opal's value, such as its brightness, size, pattern and play of colour. An all-black opal without striking shards of colour is of little monetary value.
Real Handcrafted Opel Jewellery
When caught by the light, this unique jewel's coloured prisms flash in rainbow-like colour, making it the perfect choice for High Jewellery that makes a statement, whilst affording our expert craftsmen the opportunity to create pieces that are truly remarkable.
Igniting the spark
Long hailed as a mythical and fiery gem, contemporary opal jewellery makes an unexpected and individual statement.
"A testament to its desirability through the ages, the word 'opal' stems from the Latin meaning 'precious jewel'"
ARRANGE A CONSULTATION