A Guide to Finding an Engagement Ring, with David Morris
An engagement will be one of the most spectacular and meaningful occasions of your life, with the ring taking centre stage. When it comes to buying an engagement ring, it's all about the small details and finding something which your significant other will love and cherish forever. Although choosing the ring is exciting, it can also come with a wave of responsibility and worry. Combined with the pressures of the proposal, finding a ring which looks and feels perfect can be daunting. Whether this is your first engagement or your third time lucky, the process of choosing, purchasing and gifting the ring can be intimidating and also comes with a range of new terminologies and specifications that you may never have heard of. From ring size and pricing to the different cuts and colours, our guide is here to make the process that little bit easier, and help you to find the perfect engagement ring for your perfect day!
Ready to purchase your dream engagement ring? Shop our collection of luxury diamond engagement rings or book a consultation with one of the David Morris experts!
Things to consider when buying an engagement ring
When starting your engagement ring journey, your brain will be flooded with questions and dilemmas. How much should I be spending? What diamond style should I get? What if I get the wrong ring size? And so many others. For some, this journey could be easier than others, especially if you've had hints along the way and your partner knows what's coming, but if you're completely in the dark about everything, this in-depth guide will answer all those queries for you.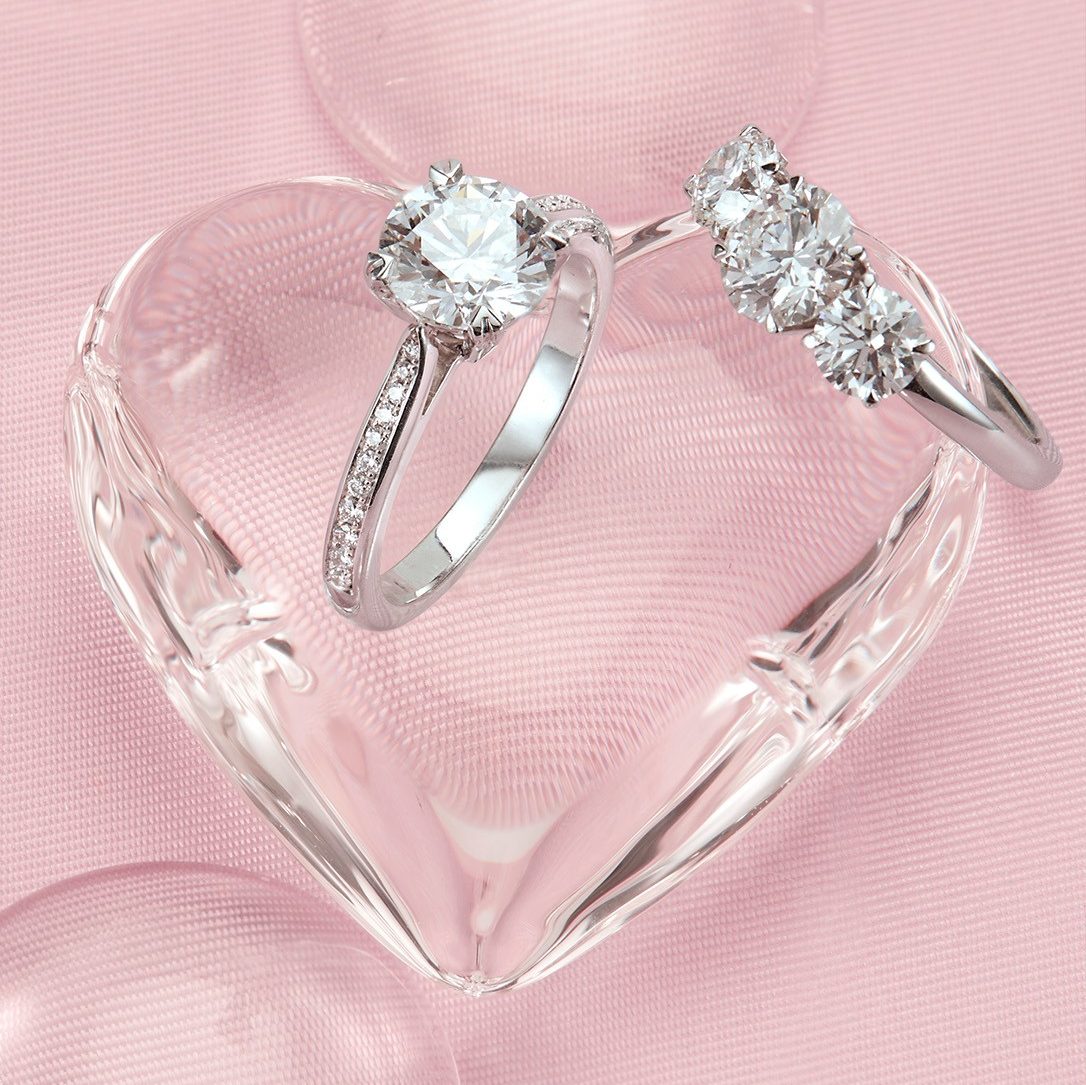 Choosing the metal for your engagement ring
Arguably one of the most important factors of any piece of jewellery, the type of metal you choose can have a huge impact on both the aesthetics and pricing of the engagement ring. Considering all the other factors above, when choosing an engagement ring, it is also important to consider the wedding band and how these two pieces will sit together, taking into consideration the colour, metal type and finish.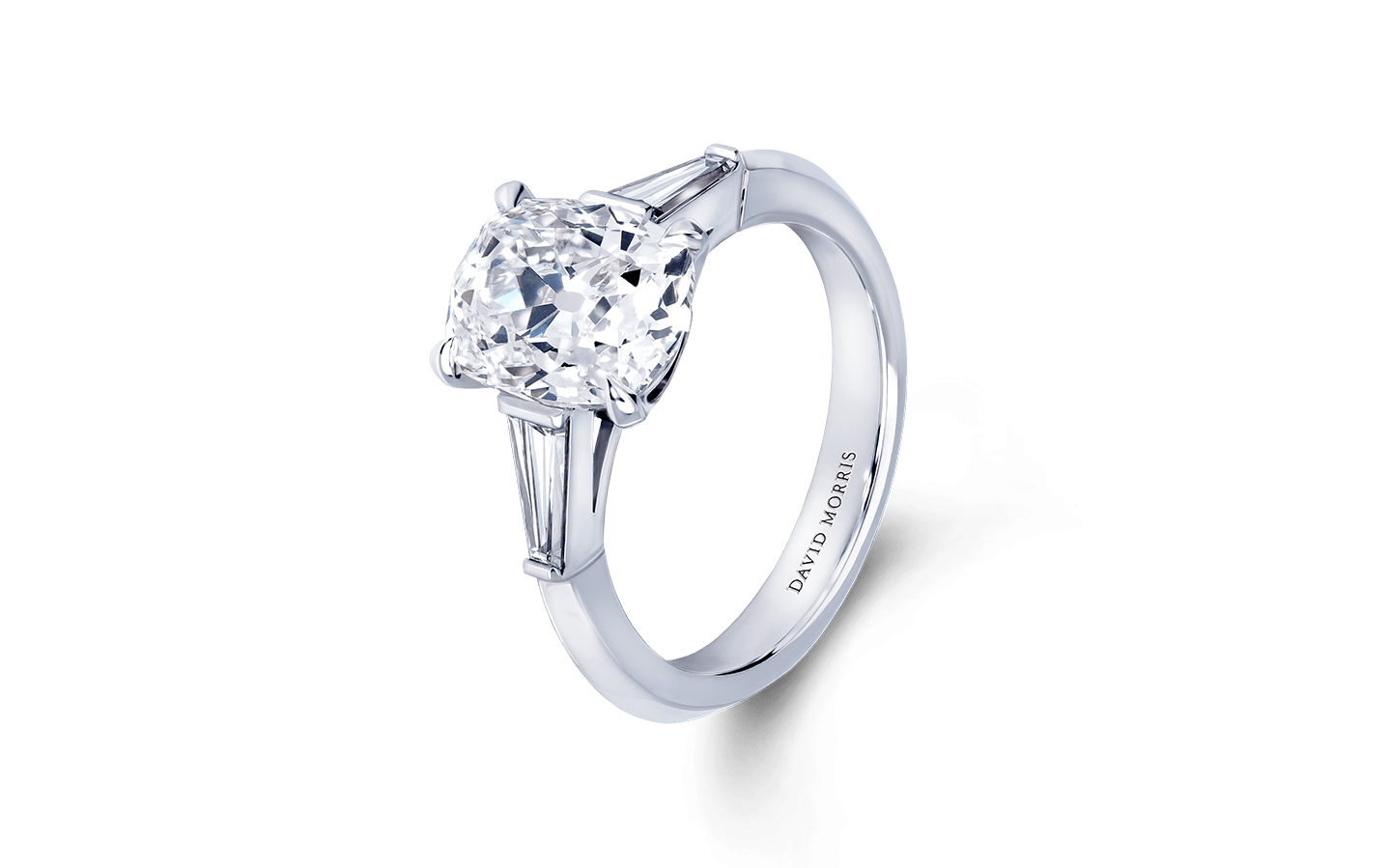 Platinium
The rarest metal of all, platinum is the most luxurious choice, offering a natural white finish which is resistant to both tarnishing and fading. Although this metal can be scratched, none of the metal will be lost, making it a lifelong piece with endless beauty. Ideal for both contemporary and vintage-inspired rings, platinum is the perfect way to add a sense of luxury to any engagement ring.
White gold
Crafted with a mix of yellow gold and white metal, this naturally coloured metal has a champagne-inspired appearance and signifies pure class and elegance. As a member of the platinum family, white gold jewellery has a bright, clean finish which has been a popular choice for many years.
Yellow gold
Symbolising love, success and luxury, yellow gold is finished in a beautiful golden colour which is resistant to rust, tarnish and corrosion. With highly reflective characteristics, yellow gold pairs wonderfully with a diamond.
Rose gold
This unique, feminine metal is the perfect option for those who can admire vintage style. A rose gold engagement ring offers an original twist, crafted by adding a higher percentage of copper to the pure metal.
Coloured Diamond
For the bride seeking something distinctively different, a coloured diamond engagement ring makes a highly individual choice, as does a Ruby, Sapphire, Emerald or Paraíba Tourmaline
David Morris Diamond Engagement Rings
As unique and radiant as your one and only, a David Morris engagement ring brilliantly captures the passion and promise of true love, making this momentous occasion that extra bit special. In six decades as The London Jeweller, David Morris has deftly played matchmaker, successfully pairing discerning women with their perfect engagement ring many times over. Our range of luxurious rings has been crafted with the highest quality metals, diamonds and styles, providing ever-lasting quality for a lifetime of happiness.
To help you choose from the wide range of cuts and settings available, the experts at our boutiques across the world will be delighted to talk through your options.
Our in-house atelier, located above our New Bond Street boutique, also means that you can have any David Morris engagement ring adjusted to your liking.