EXCLUSIVE INTERVIEW AND BTS FOOTAGE FOR THE CAPTIVATING SPRING BRIDAL CAMPAIGN, LOVE AND COMMITMENT
David Morris luxury wedding jewellery boasts handcrafted, bespoke designs made up of white diamonds, limited gemstones and precious metals. From engagement rings and wedding bands to eternity rings and wedding jewellery sets, the Love and Commitment collection is a classic reflection of high fashion with a hint of romance. Art directed and created by Cecily Morris, our Brand Content Manager gives a true insight as to what inspired this campaign and why this is instrumental in the positioning of David Morris within Bridal Jewellery.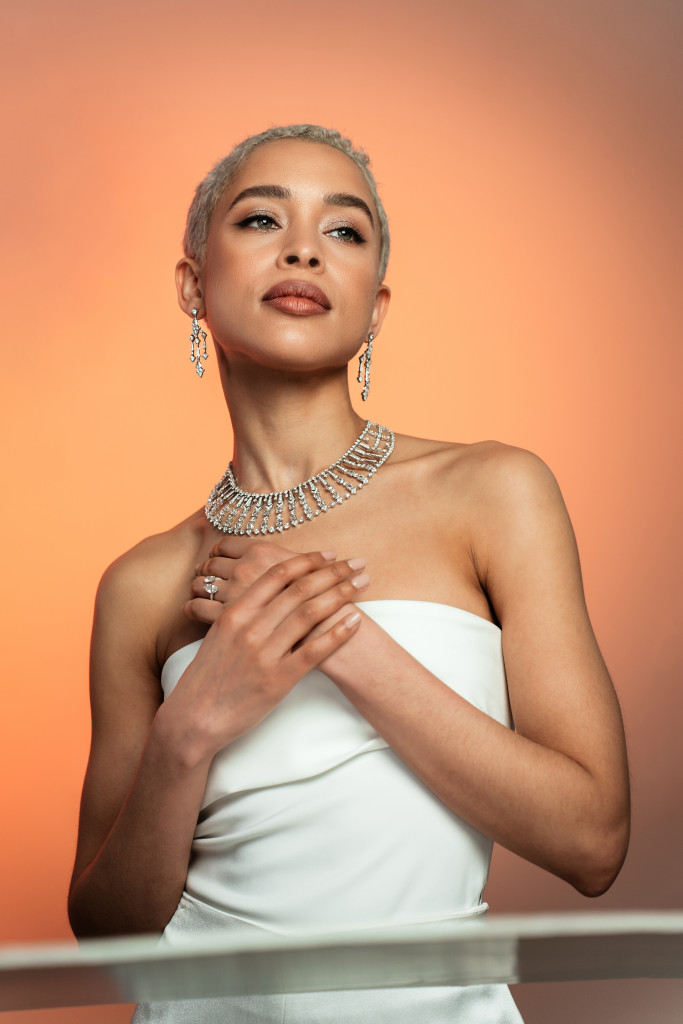 David Morris hasn't done a bridal campaign in the last decade, why did you decide to do one now?
Bridal is having its moment, as a brand we have had a huge focus on what we would consider bridal sets. White diamond elegance but also statement pieces. As asked, we haven't done bridal content for years, so there was a definite need for this in our content library.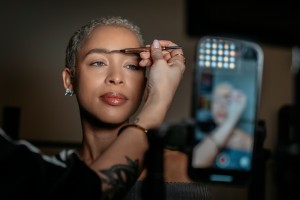 What inspired the art direction of the campaign as it is not your typical 'bridal shoot' that you would see from most luxury jewellery brands?
David Morris doesn't like following the crowd, we always like to consider ourselves as a little more artistic and playful when compared to our competitors, so this was a huge consideration when planning the shoot, how to do bridal without making it cliché and the same as what you see everywhere.
Out of all the pieces featured, what would you choose to wear on your wedding day?
I have very simple taste personally, so I would always see myself wearing something from the Rose Cut collection, but if I wanted to make it a little more impactful perhaps the Celine necklace.
You said that you worked with Charlotte Tilbury for the make-up, what was this like? Did you both share the same vision for the shoot?
Working with CT was wonderful. As a brand, they love bridal and we definitely shared the same vision. We chose barely there makeup for our fine jewellery and a little bit of sparkle for the statement pieces. Sam our MUA definitely understood what we wanted to achieve, and did an amazing job making it happen.
From the styling to the choice of model, you have certainly moved away from the stereotypical bride. Was this intentional and if so, what inspired you to do this?
Referring back to question 2, we wanted to be different from all the other bridal content we're over-saturated with. We wanted a young and fun aesthetic. Getting married is meant to be enjoyable right? And this was very much considered in the wardrobe choices. Clean lines, clean fabrics, playful structures, trousers, short skirts, no fuss and it let the jewellery speak for itself. In our mind, the concept for this was jewellery first, dress second.
The campaign portrays a young, fresh, energetic model which is complimented by the styling and concept, is this the direction you see David Morris heading into?
I think the model choice had a huge part in the final outcome of the campaign. We chose Grace because she is the definition of modern. She's absolutely stunning, young and incredibly cool, and not your typical choice for Bridal, again David Morris wants to stand out from the crowd and by choosing Grace to do this, I think it was very much achieved.
Where do you intend to use this content?
This was a social first campaign, so our intentions were to use this for our website and social media globally, however, we have had such positive feedback from the campaign, we receive requests daily to use the images for VM, invites, and even catalogues.
Brands are increasingly showing BTS content and you have some fun BTS shot, what do you feel showcasing this content to your client brings to the table? Do you think it is important now for brands to show this?
I don't think its necessarily important, but I do think it gives the campaigns more dimension, everyone likes to see what happens with BTS and when shooting, we always like to think of content and how much can we get out of the day. You really get to see the campaigns in a new light when it's not all super clean.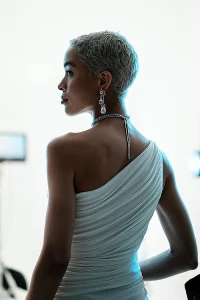 "We always like to consider ourselves as a little more artistic and playful when compared to our competitors, so this was a huge consideration when planning the Love and Commitment shoot."