Prestigious and of luxury detail, high and fine jewellery can be found from royal crowns to wedding bands, designed and crafted with the world's most exquisite stones, metals and diamonds. When navigating the glamorous world of jewellery, knowing the difference between the two is crucial for momentous life events, fashion and history.
David Morris has a rich selection of both high and fine jewellery, handcrafted with everlasting quality and style in mind. Ranging from a classic ruby earring to a diamond-encrusted eternity ring, the House of David Morris has carefully distinguished the difference between the two to create timeless, opulent accessories for the world to adore.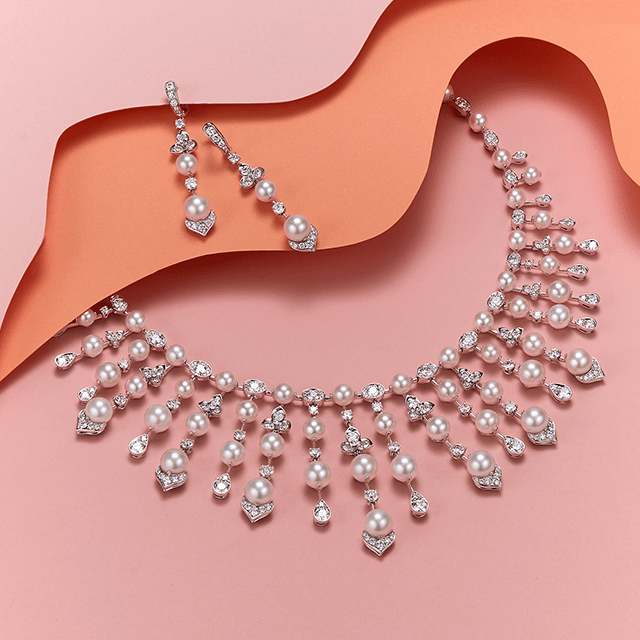 What is high jewellery?
High jewellery consists of bespoke pieces which embrace the rarest gems from the world's most exclusive locations and is focused on the art form and remarkable design. From rare coloured diamonds and pearls to sapphires, high jewellery comes in the form of rings, bracelets, earrings, necklaces and more. The scarcity and originality of these gems build a prestigious profile for high jewellery, combined with intricate craftsmanship and distinctive design. The feature of precious metal and stones is what makes this jewellery so distinctive, making them of high value and also a high presence in collector's items or generational heirlooms.
These collections are rarely crafted in abundance, meaning innovation and originality is at the heart of all high jewellery. Crafted on a one-off basis or within deluxe collections, high-jewellery is known for its couture pieces within famous houses, resembling both vintage and modern fashion which will forever be appreciated by royals, professionals, designers and consumers.
What is fine jewellery?
One of the major differences between high and fine jewellery is the fact that fine jewels do not include the rare and unique stones that high jewellery is famous for. Instead of these stones, fine jewellery is handcrafted in a selection of precious metals including platinum, white gold, yellow gold, silver or rose gold. Typically designed and crafted for daily wear, fine jewellery can be found in the style of rings, bracelets, earrings, necklaces, bangles, anklets or timepieces. Fine jewellery is also focused on the 4 C's with a clear emphasis on the carat.
Fine jewellery can however come with gems such as white diamonds, rubies or sapphires but these are not typically as of high value as the ones used in high jewellery. These pieces can be worn as statement items for wedding guest jewellery or worn on a daily basis, created by world-known brands and designers who are passionate about blending elegance and chic style.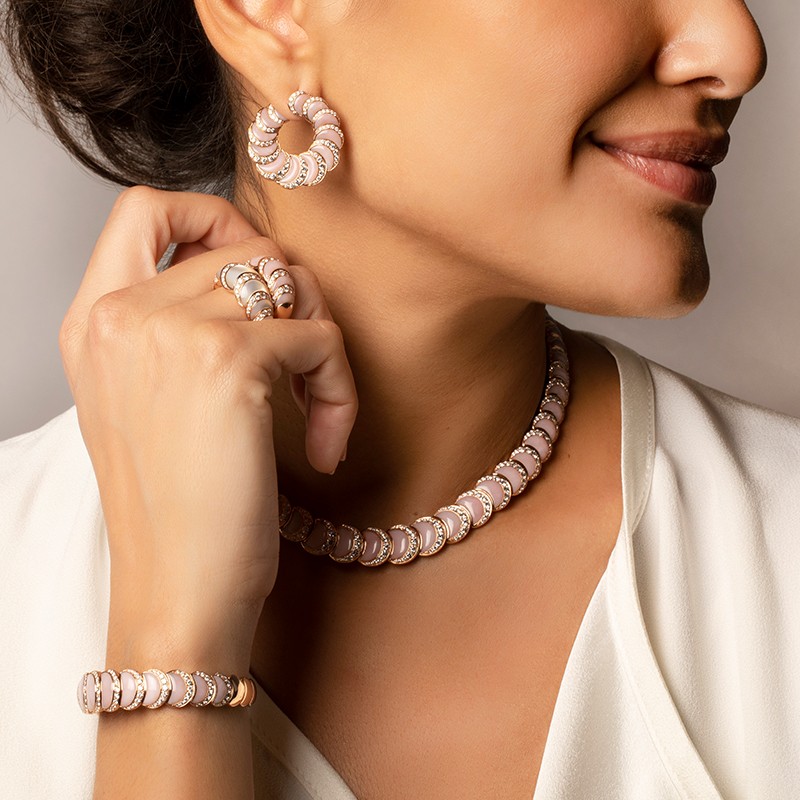 The difference between high and fine jewellery
Price: The final price of a jewellery piece reflects both the stones and metals used but also the time invested in the craftsmanship. High jewellery emphasises bespoke, unique design and although fine jewellery can still contain rare gems, the attention to detail is what differentiates the two.
Craftsmanship: The craftsmanship involved in both high and fine jewellery is that of the highest standard. When it comes to crafting high jewellery, however, this can occasionally contain more bespoke processes and techniques.
Precious vs non-precious: High jewellery is crafted with precious gemstones which are typically one of a kind whereas fine jewellery is crafted with precious and non-precious.
David Morris Jewellery Collections
High Jewellery by David Morris
Timeless, classic jewellery handcrafted with the world's rarest, most unique stones. David Morris high jewellery collections are made up of white diamonds, rare coloured diamonds, rubies, sapphires, emeralds, opal and pearls. Reimagined in rings, necklaces, bracelets and earrings, our original stones have been influential for our house name.
Fine Jewellery by David Morris
David Morris fine jewellery collections are the perfect combination of innovative design and classic style. Handcrafted with fine gemstones and precious metals, our selection of rings, necklaces, bracelets and earrings come in a selection of collections and themes for a timeless impact.