What is an Eternity Ring?
Symbolising everlasting love, an eternity ring is a jewellery piece which has been around for centuries and is the perfect way to express faithfulness and passion. Love is often expressed through thoughtfulness and gift-giving, with jewellery being at the forefront. Receiving jewellery has been regarded as a sign of admiration for endless years. From receiving an engagement ring alongside a magnificent proposal, to wearing your wedding band for the rest of your life, these precious gifts symbolise loyalty, commitment and a strong bond between two people.
An eternity ring is typically gifted during a marriage and is used to remind the receiver of the love shared or to mark a milestone that the two are experiencing together. Like most precious jewellery, eternity rings also come with great history which is one of the many reasons it is deemed such a special piece as its meaning is recognised all over the world. They make the ideal gift for an anniversary, birthday, the birth of a first child or Valentine's Day and will accompany one's engagement and wedding ring to make a complete set. These rings are also a reminder of cherished moments and can be passed down the generations to become a precious family heirloom.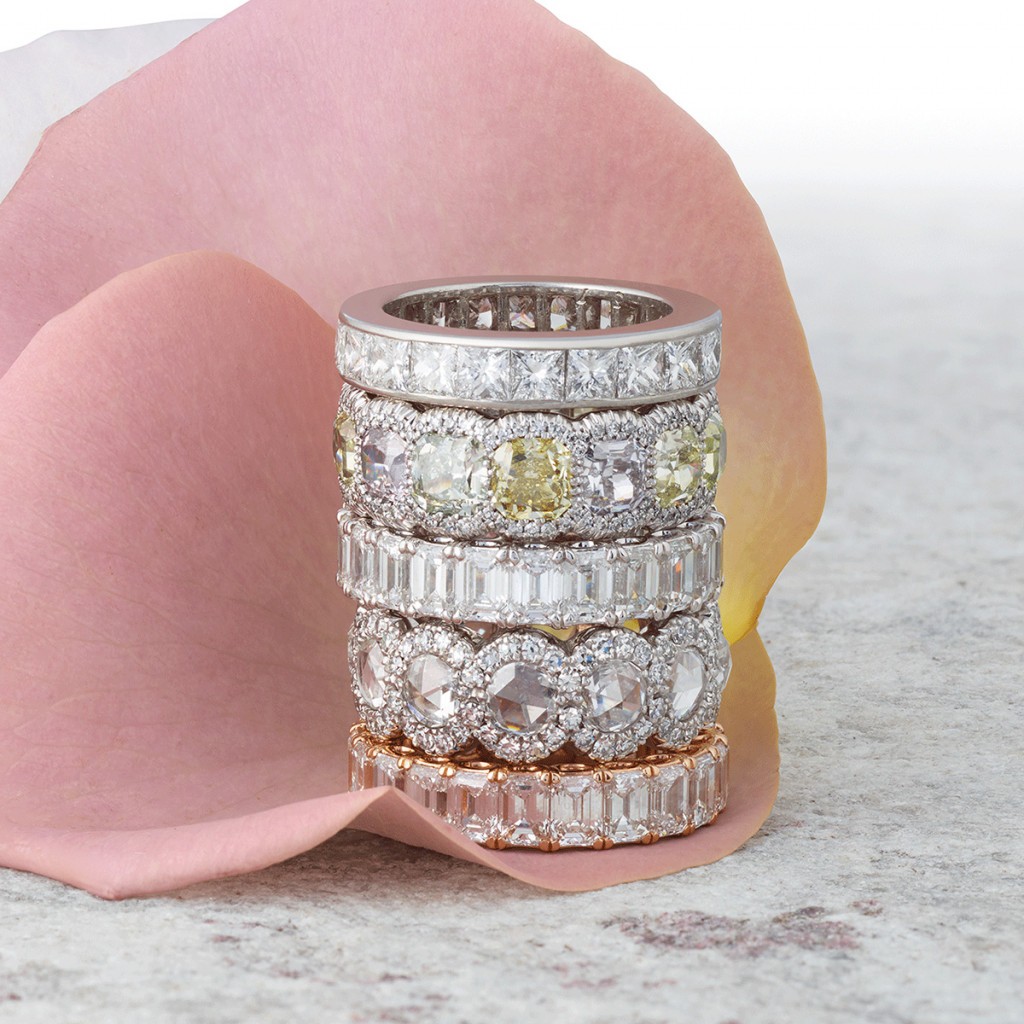 History of the Eternity Ring
Traced back 4,000 years to the ancient Egyptians, eternity rings were originally offered as a token of eternal love and life between a husband and wife and didn't necessarily accompany a special occasion. They were cut and crafted in a circle of metal, set with stones to the top of the ring or spanning the rim. Prevalent design choices consisted of serpents and often came with more profound meanings referring to life and death. The original symbolism of an eternity ring was based on the symbol of infinity whilst the circular shape represents the circle of life.
Although they went through waves of popularity alongside fashion and trends, eternity rings regained their crown in the 60s due to diamond merchants. After there was an agreement between diamond merchants and the Soviet Union to purchase uncut diamonds from Russia, the stones then underwent new and improved craftsmanship including mounting onto gold or platinum bands.
In the present day, these momentous rings can be designed in a variety of styles, colourways and finishings, with some women even choosing to wear eternity rings over their wedding band.
How to wear an eternity ring
Two of the most common questions that people have when it comes to eternity rings is what should the order be in terms of engagement, wedding and eternity ring and which finger should it be worn on?
Traditionally, the wedding ring should be worn first, then the engagement ring and then the eternity ring, all placed on the fourth finger of the left hand, also referred to as the ring finger. Although this is tradition, rings can be worn in line with personal preference and there aren't strict rules around the placement. Some people consider three stacked rings to be too overpowering or uncomfortable, so opt to wear the eternity ring on separate fingers. When looking at or purchasing an eternity ring, many people contemplate the difference between that and a wedding ring. In terms of differentiation, the defining feature of an eternity ring is that it has been designed with diamonds or gemstones running throughout whereas a wedding ring will typically feature diamond accents. Although they symbolise similar things, a wedding ring is gifted only on the day of marriage, whereas an eternity ring is a reminder of the love and specific accomplishment met. Embark on your wedding journey with our guide to finding your perfect wedding band.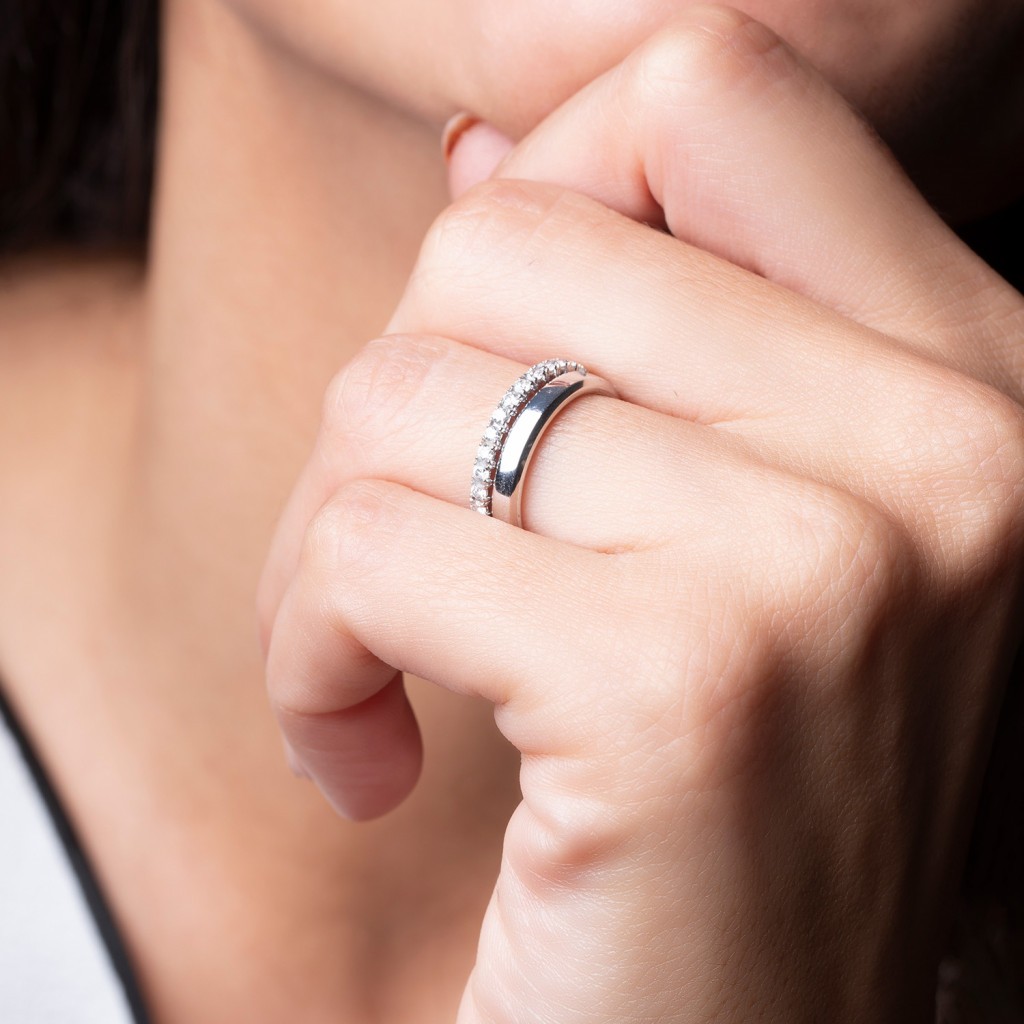 How to choose the perfect eternity ring
Similar to the engagement and wedding ring, choosing an eternity ring takes a lot of thought, time and consideration. As this piece will most likely be worn every day, there are a lot of decisions that come with purchasing one, including the style, price, shape, cut and size.
Half and full eternity rings
An eternity ring can come in either a half or full option, both crafted with diamonds or gems. A full eternity ring offers ultimate luxury. Adorned with stones around the entire band, a full ring resembles refined fineness. A half-eternity ring allows for a bigger stone on the top half, offering a more simplistic approach.
Diamonds and gems
The diamonds or gems crafted in a ring are arguably the most significant and prominent elements, coming together to create a piece of jewellery that resembles emotion, history and passion. Eternity rings are often crafted with diamonds, however, can also be designed with sapphires, rubies, emeralds and other favoured gemstones. One of the main distinctions between these two is the personalisation that a gemstone offers. Choosing a specific gemstone ( such as the receiver's birthstone or anniversary gem ) adds a more emotional touch to the gift and is a reminder of the celebration and unconditional love.
Metal type
The band of the ring can be made from a number of different metals including yellow gold, white gold or platinum and this choice ultimately comes down to budget and colour preference. It's also important to consider how the eternity ring is going to look alongside the engagement and wedding ring. Typically, the metal type should be the same although some people mix their jewellery too.
Silver is typically not recommended for eternity rings as they're not ideal for daily wear. When it comes to durability, platinum finishes are inundated however white gold and yellow gold are also more than suitable.
Diamond shape
Princess and emerald cut diamonds are two of the most practical options when it comes to eternity ring stones. These cuts are compact, hardwearing and timeless, sitting perfectly within the ring band. There are however a number of other diamond shapes available including the oval, pear, square cushion, standard round and heart.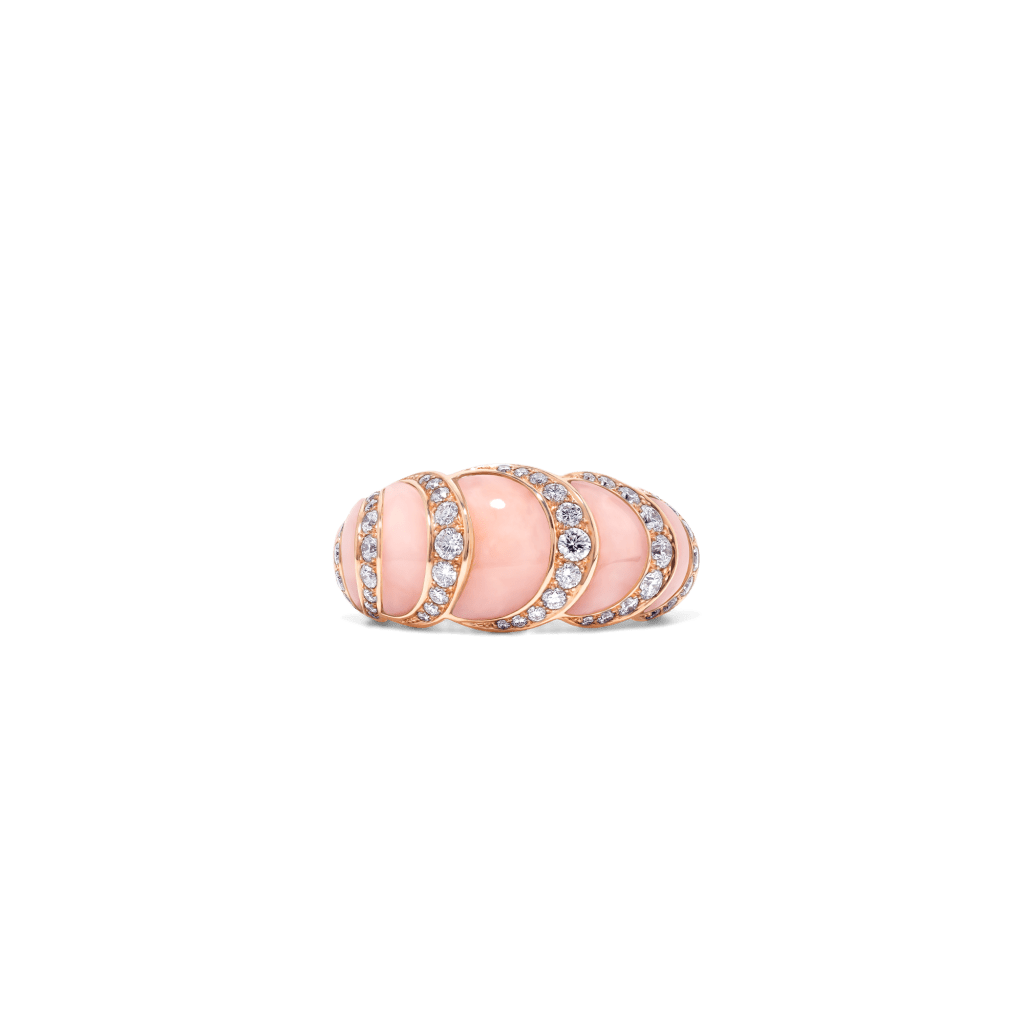 FAQs on Eternity Rings
When do you get an eternity ring?
An eternity ring is given to symbolise the love and devotion shared, therefore is typically bought and gifted at the time of a special occasion between two people for example an anniversary, the birth of a child or a significant birthday.
How to wear an eternity ring
Accompanying your engagement and wedding ring, the eternity ring is traditionally worn on the top of the stack on the fourth finger, on the left hand.
How much should you spend on an eternity ring?
This can depend on personal preferences and circumstances but is recommended that the price is around 2 to 3 months' salary for complete longevity.
What does an eternity ring mean?
An eternity ring is a perfect gift to represent lasting affection and share a thoughtful moment with your partner.
Discover the captivating collection of eternity bands by the London jeweller David Morris. Fashionable, elegant and luxurious, our collection of handmade rings has been crafted in our New Bond Street atelier, designed and made with intricate detailing and flawless finishings. As unique and radiant as your one and only, David Morris brilliantly captures the passion through the craft of wedding bands and engagement rings plus unique wedding jewellery sets for the special day.
Our unique bespoke eternity band service is made-to-order and can be customised by engraving a special message or date to make this gift extra special. View our selection of engraved jewellery here or book a consultation with our Bond Street jeweller.